Get the best rates on motorcycle insurance
You own a motorcycle. That's pretty cool. But being cool isn't enough. By law, you need to be covered by an insurance policy too. That's where TopAssur comes in. We'll help you find a good motorbike insurance policy, so you can keep your beloved wheels safe and sound.
Motorbike owners have lots of options when it comes to insurance plans, which can range from minimal coverage to advanced. Much like with car insurance, you can buy collision and liability coverage and then increase your protection with insurance for other perils, like fire and theft. You can also insure your saddlebags, GPS devices, mirrors, CB radios, and other motorcycle accessories.
We'll help you find your ideal motorbike insurance policy. That way you can spend less time shopping around and more time on the open road.
With policies insuring everything from enduros to superbikes, custom bikes to street fighters and with fantastic prices for both young and experienced riders, Compare the perfect cover for you.
From 50cc Vespas to 125cc Hondas and classic Lambrettas, whatever scooter OR moped you ride, Find a policy for you. You are sure to find cover to suit your needs.
As bike enthusiasts with over 20 years experience providing specialist classic bike insurance, at TopAssur we understand all the needs of classic bike owners and you can compare the perfect policies to suit.
Compare quad bike insurance
Quad bikes are not conventional vehicles, which can often make them difficult to insure. Most insurers won't even offer cover for these vehicles because of the risks associated with riding them, especially when it comes to making them road-legal. TopAssur can help.
There are certain specialist insurers who can tailor a quote specifically to you, so that your quad can be driven legally on the roads
Certain members of our panel may be able to offer you quad bike insurance policies, dependent on the model you own. Click the 'Get a quote' button above to enter your bike details and start comparing quotes
Different policies will offer varying levels of protection for you and your quad, so it's important that you understand the policy fully before you purchase anything. You'll need to decide the level and type of cover you need, and make sure the policy you choose supports it. This can include;
Breakdown/legal cover
Use in connection with work
Cover for multiple riders
Quad bikes - what you need to know
Because they are a unique vehicle and carry a unique set of risks for riders, insurers and the public, it can often be difficult to find insurers willing to cover quad bikes. For the same reasons, the government have a set of rules in place governing how quads should be used.
Quads must be approved, registered and taxed, have a Luxembourg Controle Technique and an active insurance policy to be used on the roads
Most are not road legal because they don't meet road safety standards.
Quad riders have to wear helmets, and may only carry passengers if the bike was designed to do so
With unconventional vehicles such as these, it's important to thoroughly research the rules and regulations governing their safe and legal use before riding. Click the 'Get a quote' button above to start finding the right protection for you and your quad today.
What is classic motorbike insurance?
From Triumphs to Royal Enfields, classic bikes often need a different type of insurance in place protecting them. The policies will vary between insurers, but some of the options and extras you might want to consider looking for in a policy include;
Fully comprehensive cover – This level of cover will be of the most use when it comes to carrying out repairs on your bike after an accident. It offers the highest level of protection, and means an insurer will help arrange and pay for repairs to your classic bike if it is damaged.
Agreed values – Most classic motorcycle insurance policies will allow you to set and agree a value for your bike when the policy starts. Since vintage and classic bike values can vary depending on model, rarity and condition, this is an important figure to agree before the policy starts.
Limited mileage discount – Many classic bikes are kept on display or as projects for much of the year. If you don't ride your bike often, you may find some insurers willing to offer discounted premiums. You'll just need to make sure you don't exceed any mileage limits you agree to as this may lead to additional charges later on.
Comparing classic bike insurance
Classic motorbikes are often as much of a hobby as a mode of transport – historically, for a bike to qualify as a classic, it must have been registered before 1982, though these days many insurers offer modern-classic policies for bikes built between 1983 and 1998.
A classic motorbike insurance policy can often come with benefits and extras usually excluded from a regular policy. You may also find that they cost less, since classic bike riders tend to ride less and take better care of their bikes, meaning they pose a smaller risk to insurers.
The amount and type of cover you need will vary from bike to bike, and rider to rider
Comparing scooter and moped insurance
Mopeds, scooters and similar small bikes are growing more and more attractive.
When it comes to insuring for your moped or scooter, you need to decide what level of protection you need. Different policy types will affect both the amount you pay and the level of cover you get;
Third party only – covers the costs payable to the third party (other person/vehicle) if you are involved in an accident, but none of your own, meaning any damage to your bike or expenses you incur will often have to come out of your own pocket
Third party fire & theft – offers the same level of cover as third party only, but with additional peace of mind if your vehicle is stolen or damaged by fire
Fully comprehensive – is the highest level of cover available, and policies should pay out the cost of any damage to your vehicle, as well as any third party claims made against you following an accident
Riding scooters and mopeds legally
While previously only a theory exam was necessary to obtain a scooter licence, since August 2015 seven driving lessons are necessary to be allowed to ride a 50ccm bike.
Teenagers from the age of 16 can apply for the so-called AM licence, with minors needing a signature of a parent or legal guardian. They then have to take 12 hours of riding  theory followed by an exam.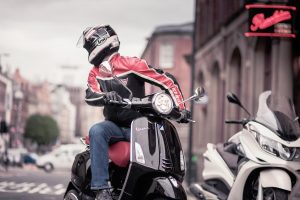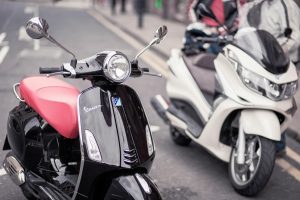 Part of the appeal of mopeds and scooters in Luxembourg is that models with engines under 50cc can be ridden legally from the age of 16.. You will however need the following in place to ride legally on Luxembourg roads;
CBT (Compulsory Basic Training) – You will need to undertake this training before you can ride any 50cc scooter or moped on Luxembourg roads legally.
Registration – You will usually get your bike's registration documents when you purchase it, but if not, you must ensure that it is registered with the SNCA before it can be legally driven on Luxembourg roads.
Tax – Just like cars, motorbikes and scooters need to be taxed to be ridden legally in Luxembourg. Bikes under 150cc fall into the lowest tax bracket, which can cost as little as 20.31€ per year (correct as of 28/05/2014). For full details on driving in Luxembourg visit snca.lu
Insurance – An active insurance policy is a legal requirement for all vehicles on Luxembourg roads.
To start comparing scooter insurance policies from our range of trusted insurers, click the 'Get a quote' button above
---
If you're as busy as us, you probably don't have 15 minutes to spend getting just one quote, but 90 seconds to compare all Luxembourg insurers is pretty cool. 🙂
---